Multiple Functional Vacuum and Blower Cleaner
Package includes
1 x Suction tube
1 x Brush
1 x Manual
1 x USB charging cable
1 x Electric air duster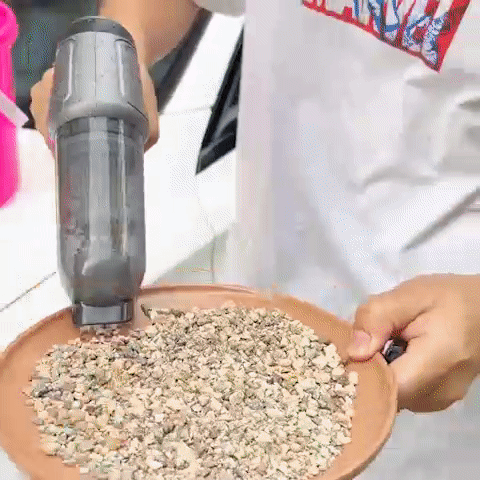 Features
– Color: Black
– Material: ABS
– Rated voltage: DC 7.4V
– Rated power: 50W
– Charging method: 5V USB boost charging cable
– Rated speed: 35500 rpm
– Vacuum degree: about 5500pa for vehicle, about 5000pa for wireless
– Lithium battery battery capacity: 2 x 2000mAh
– Noise: ≤ 84dB
– Operating temperature: -20℃~+50℃
– USB cable length: About 1 meter
Description
【ELECTRIC AIR DUSTER】 Our electric compressed air duster redesigned its air blowing nozzle and updated its blowing power. Furthermore, there has a mini brush which can put on the blowing nozzle to help you brush the sticky dust while blowing. Besides, electric air duster allows you can use it blow the dust at any angle and there's no vapor spray out, its non-static feature makes it be a nice tool to clean all kinds of electronics.
【COMPUTER & KEYBOARD VACUUM】 This keyboard vacuum cleaner especially suitable to clean computer tower, laptop keys, keyboard crevice and other electronics. There also has a mini brush which can put on flat nozzle to help you brush away the stubborn dust, soft bristles can brush your computer fans or electronics gently without any scratch or damage while vacuuming.
【2-IN-1 ELECTRIC AIR DUSTER & VACUUM CLEANER】 Buying our compressed electric air duster equivalent of buying a compressed computer air duster, a mini vacuum cleaner, an air blower, uncountable air cans and cleaning gel at a time. No more environment polluted, PeroBuno makes two cleaning ways together which can saves you lots of money in the long run.
【RECHARGEABLE AIR DUSTER】 This cordless compressed air duster designed with 4000mAh rechargeable large capacity battery which allows it can be running 30 minutes at a time. Lightweight and cordless design makes you can hold this electric air duster just by one hand and convenient carry to wherever you go.
Professional air duster : Multifunctional wireless high-power vacuum cleaner, professional dust removal and cleaning.
Super suction: Easily suck away all kinds of dirt, debris, hair, do housework easily, and experience a clean new life.
Powerful motor: The motor continues to supply energy, the wind is strong and does not decay, and the surging power output is stable.
Long-lasting battery life: Large-capacity 4000mAh lithium battery, wireless battery life of more than 30 minutes, easy to use.
Cordless design: This upgraded cordless vacuum cleaner is light and portable. With quality filter, good breathability, washable and reusable.